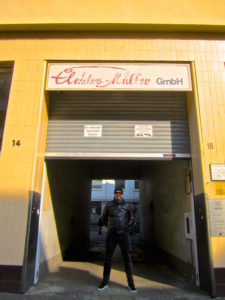 Host/Producer  David Hawkes pictured in front of Kraftwerk's Kling Klang Studios, Dusseldorf in March 2016,
Vancouver born and raised, host of The Creators David Hawkes, grew up with legendary broadcaster Red Robinson as his next door neighbour. "He used to give my older teen sisters 45's to listen to and I basically took more interest in them and used to spend hours listening and memorizing the songs, artists and labels. My father was a great pianist and singer, playing regularly at historic venues such as the Commodore and Cave and later in life as a barbershop-er his quartet performed to full house at the Queen Elizabeth Theatre. He definitely made me want to be around music and kept music alive in our home."
David took to music and music theatre, learning alto sax first then, self-taught guitar and bass, later programming beats and digital audio music production.
In New York in the early 1980's, David worked for the company that designed and was responsible for the sound systems at Studio 54, Paradise Garage, Roxy Roller Rink, Area, Danceteria and Limelight. "It was crazy times in gritty NY. I used to get late calls that I had to go down to drop off a mixer or fix something. One night at Roxy Roller Rink for example when Grandmaster Flash was having troubles with his mixer  I had to swap out a mixer with a packed house full of Zulu Nation members and breakdancers waiting for me to get audio back."
I took my love of club life and DJ'ing back to Vancouver spinning at Confetti, and later carving my club disc jockey career out at Vancouver's legendary Luv-A-Fair, Graceland, Gandydancer, Palladium, Buddy's, Club 1040, and at raves.
"My DJ days were exciting. We ushered in alternative music. I was there from 1984-1997, DJ'ing most Klassix nights from 1986-1997 and up to 4 nights a week at one point. We also produced many concerts, my most memorable being GBH, Consolidated, Sons Of Freedom, and the one as producer I am most proud, Nine Inch Nails first Canadian show ever. Thousands say they were there, but I can tell you less than two hundred were."
David's radio career took off after a chance meeting in NY when he met David Marsden in an elevator at a New Music Seminar, who told him to get a show on college radio, which he did at UBC's CITR for three years. "One day David Marsden called me at home and asked me to join Coast 800 (later Coast 1040) which was the lucky break of my career. I knew I had an amazing opportunity and I worked so hard to make it work".
After Coast radio folded for licensing reasons, David was hired by Z95.3 Vancouver and hosted the ground-breaking music show three nights a week called "On The Edge with David Hawkes". I had amazing license at the time, and was premiering artists such as Green Day, Radiohead, Portishead, Garbage, Massive Attack and more to a CHR crowd. It kept my love of progressive music going for an audience sad they lost Coast"
As well as DJ'ing David was hired as Nettwerk Records Radio Promotions for Canada, and worked Sarah McLachlan's single "Building a Mystery" to the label and Sarah's first CHR & AC #1 Record in Canada. "The people I worked with at Nettwerk were amazing. Real visionaries to a person. As well, the roster of artists such as Skinny Puppy, Grapes of Wrath, Severed Heads, MC 900 FT Jesus and more made it a pleasure to go to work."
After his run at Z95 David was hired by CFOX Vancouver as host of his own weekend show "Triple X with David Hawkes" where he programmed his own show, premiering multiple artists music in Canada with interviews live on air with bands such Radiohead, Moby, Blur, Supergrass, Live, Coldplay, Muse, Lenny Kravitz, etc.
"During this time I even had my own 2-day concert "The David Hawkes Modern Rock Circus" featuring Silverchair, Matthew Good, Local H, Age OF Electric, and more. Thus truly ushering Modern Rock into Vancouver.
"In 1997, I decided I needed a reward and a break, so I took a year off and travelled around the world, visiting Europe, Africa, Middle East, India, Southeast Asia, Australia and the Mountain Gorillas in Bwindi Uganda. I was so happy I took the time to do that. I gained so much more life experience from going for it".
Upon his return to Vancouver, David reclaimed his anchor/programming chair at CFOX continuing breaking new music and interviewing artists. While away his travels David wrote a concept for a radio service based on the national youth radio service of Triple J in Australia. Upon return to Vancouver, David presented the programming ideas and concept to CBC in Vancouver and was hired as Concert & Sessions producer for CBC Radio Two, Music programmer for the development of CBC Radio 3 and host/producer for Radio Escapade on CBC Radio Two nationally, which David and the small staff of eight working on developing CBC Radio 3 used as a testing ground for the new voices to be heard on CBC Radio 3, once it launched.
As CBC Radio Two concert and Sessions producer, David recorded, mixed and produced national live broadcast concerts by artist such as Tom Waits, Manic Street Preachers, Ron Sexsmith, Bryan Ferry, Ben Harper, Chemical Brothers, The Beta Band, Natalie McMaster, Ben Lee, Luscious Jackson, Sloan, Stereolab, and many more.
As well, David worked on development of the now internet CBC streams of NewMusicCanada, and 120Seconds, both resources and vehicles for the development and access of new music for all Canadians.
"The night before we were announcing in the press we had the new station ready to go, CBC management decided it was not going to be a traditional radio station heard on basic radio waves and understandably our team were all heartbroken. However the work developing the concept and my time at CBC is some of my proudest work. But I had to take advantage of my next opportunity, to work at Rogers and launch a new music station for Vancouver called XFM."
As Marketing Director, Artist Relations Director, Director of Specialty Programming and in music meetings, David helped shape a strong identity for the station as well as hosting two shows on the station, one being the Green Room recording live music sessions and interviews with artists such as Grapes Of Wrath, A Perfect Circle, Ben Harper and more. "As well as the music side of things such as doing the world premiere of the Radiohead album KID A, I was the most proud of being the overseer of the development of our award winning website (also used by our sister XFM station in Ottawa) and also for choosing and setting up our charity of choice Covenant House, helping youth at risk".
With the great success of XFM's ratings, David was approached again by Corus Entertainment to re-launch CFOX as a Modern Rock Station. David was asked to be one of a very few team to totally re-launch the station as a Modern Rock station, sit in on music meetings, develop specialty programming and host five nights per week, programming music for the shows with multiple interviews.
"After corporate moves within the company after two years, I was then looking for work and took on the contract as Marketing Director for NewMusic West 2002, and really enjoyed producing shows for that year. I was the person to book Gene Simmons (Kiss) with Matthew Good, George Strombolopolous as the key-note address, as well as live shows and panels by artist such as Frontline Assembly, Midnight Oil and T-Bone Burnett.
David then joined MASEV, a sports entertainment experiential life-event company as Marketing Director and Live Music Programmer, whereby we produced live multi-city concert/sport experiences such as Molson Sno-Jam, West 49 Canadian Skateboard Championships, BELL SNOW SCENE, Extreme Ski-Cross Series. All these events had a very large live music component.
After David left MASEV as the company folded, he worked at DK Boom producing live concerts such as FOXFEST Green Day, FOXFEST Offspring, Snoop Dogg's National Ho Ho Ho Christmas Tour, the multi-city Okanagan Spring Pure Music Festival with Great Big Sea, Finger Eleven, 54/40, the Future Shop Granville Street Grand Opening multi-venue/concert event and the Commodore Ballroom Rocktoberfest event featuring Trooper with Doug & The Slugs, sadly Doug Bennett's last Vancouver performance.
In 2003 David took over as General Manager, Marketing Director and Booker of Vancouver's Plaza Club, transforming the venue into a world-recognized mid-size live facility which was so successful it was renovated to be an even more turn-key live room as VENUE which David retained the title of Live Music Director working for The Adelphia Group, which became Blueprint Events.
"During that long run at Plaza/Venue I was happy to produce concerts and events for artists such as Rodriguez, Buckcherry, New York Dolls, Mel C, Adrian Belew, Coldcut, TV On The Radio and more. I am very proud to have built another live-music room for the city and all the charitable events I also produced in the room."
In March of 2014 David was asked to launch another live music program for Imperial, which with his direction quickly became Vancouver's premier mid-size live international, national and local artist touring facility in Vancouver, producing concerts by artists including, Sean Lennon, Michael Franti, Sarah Harmer, Kongos, Sloan and more.
While still booking Imperial remotely via internet and phone, David moved to Palermo Sicily in May 2015, also visiting Germany, Crete, Cyprus, Italy, Czech Republic and Portugal.
On his return to Vancouver David continued as Live Entertainment Director at Imperial until his resignation on October 31, 2016 to bring to fruition the concept he created while in Europe, The Creators TV Show.
"It was my feeling that much like I felt in creating CBC Radio 3, that Vancouver's art and music community was being under-served in the media. I thought rather than complain about what should be done, I decided to roll up my sleeves and create the show, to hopefully help celebrate and support our arts and music community".